Meticulously planned, skilled craftsmanship and careful installation
Holme Tree Ltd was founded in 2000 as a company to produce the finest hand crafted furniture.  Located in Ashby de la Zouch, in the heart of the National Forest, the company has gone from strength to strength and has an outstanding reputation for both high quality furniture and exceptional customer service.  The high number of repeat customers and recommendations is a testament to the first class service given by the Holme Tree team.
The Founder and Director of the Company is Trevor Brown whose vision to create a world class furniture business continues to be the driving force behind the business today.  With a background in engineering, Trevor specialises in designing and project managing the process from the initial meetings with clients through to installation.  His attention to detail and wide ranging experience on a huge number of installations ensures that your project is planned meticulously.
The Holme Tree manufacturing premises are located adjacent to the large showroom and our highly skilled team of manufacturing staff create each piece of furniture using high quality materials in the on-site factory.  If you visit our showroom, we would be happy to show you our furniture being made.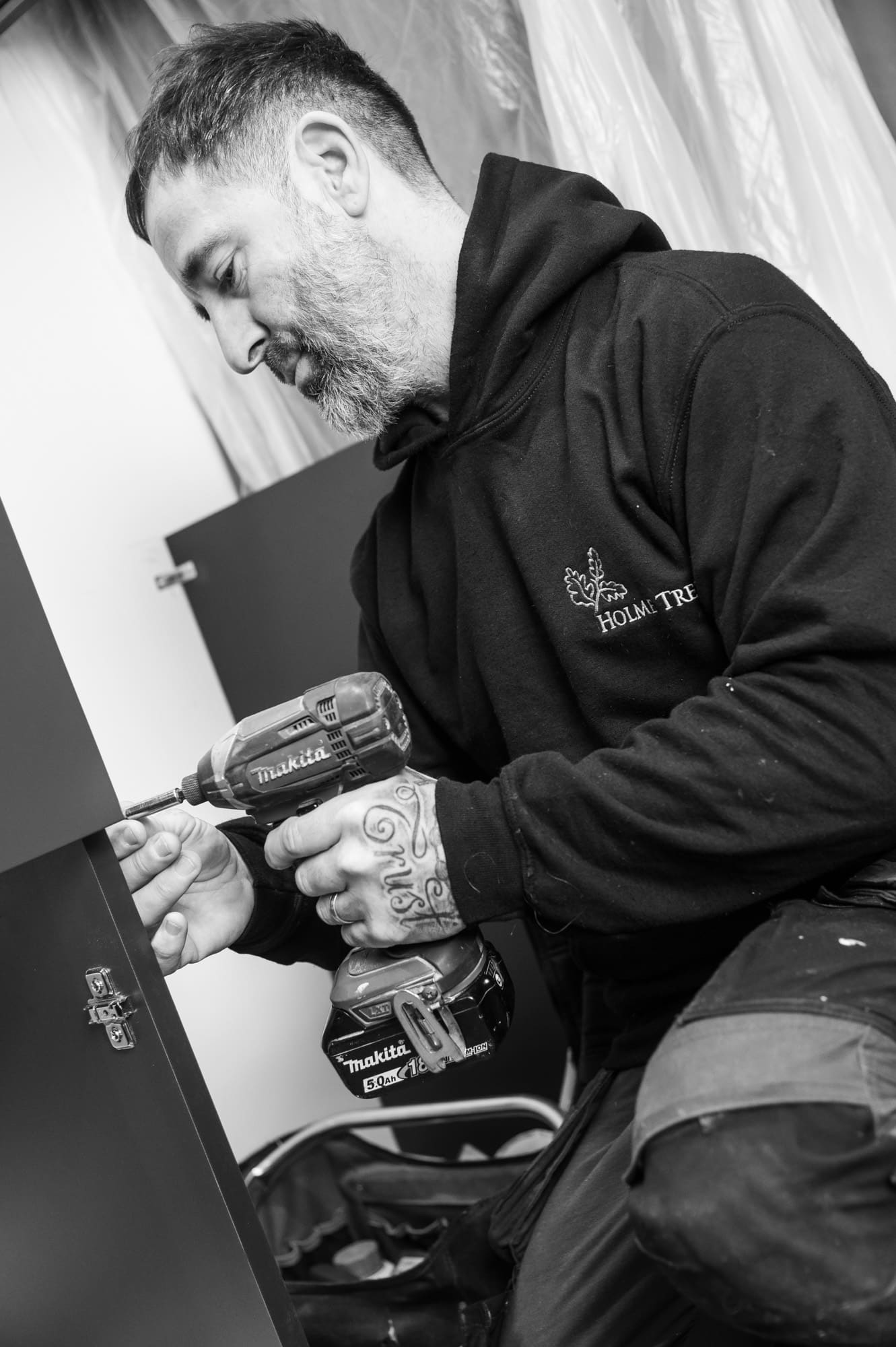 Outstanding support from conception to completion
We understand that the furniture you have chosen needs to be installed in your home with skill and care which is why Holme Tree has its own installation team.  Our fitters know our product and can ensure that it is installed in your home in a professional and timely manner.  
Supporting our clients as well as the Holme Tree team, and with responsibility for the day to day running of the office is Lisa Brown who would be happy to help with any queries you may have so please get in touch.
At Holme Tree, we take our environmental responsibilities very seriously and over the years have evolved our processes to be sensitive to the world around us. Our factory has solar panels on the roof which generates electricity to power our machines. In addition, all our factory lighting has been upgraded to LED lights. All our waste is collected by Briers of Tamworth who promise 'no waste to landfill'. Our timber is supplied to us from reputable sources and is marked with the FSC accreditation. Our furniture is sprayed with water-based paints which do not release VOCs into the atmosphere. We also have an electric vehicle to reduce some of our emissions. We are continually reviewing our processes so that we can be as efficient as possible such as making sure materials are taken to site for external contractors in order to reduce mileage to and from our factory in Ashby de la Zouch. We are always open to new ideas to reduce our global footprint further.